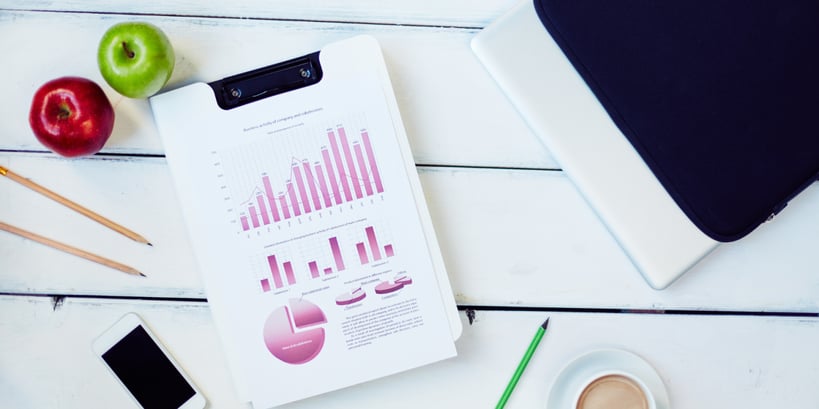 One of the best things about Sage 200 in my opinion is the variety of options you have at your disposal to report on the data. We have noticed that Sage 200 users typically start out using one or two of these but may have forgotten about the other options that exist. For new and existing users, we thought this article might be helpful as little reminder of the reporting options available to you.
1. Workspaces
Workspaces is a really handy tool that comes as standard with Sage 200 Professional. It presents the data in a nice, visual/graphical format. Workspaces display the data in an easy-to-digest grid format and are more visual than using traditional list views. You can also easily add/change columns.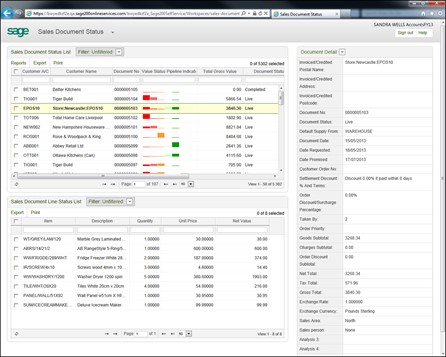 What are Workspaces typically used for?
Viewing related data across entities e.g. you can see related Sales Orders from the Customer Transaction Enquiry

You can open Sage 200 screens to complete a task e.g. Amend customer account from Customer Account Enquiry workspace

Run relevant reports

View/Authorise Purchase Requisitions

Export Data into Excel

Print Selected Data

Viewing data that may not be available on a standard list view (e.g. list of customers with email addresses)

Viewing Summary Data in graphical format (see example below)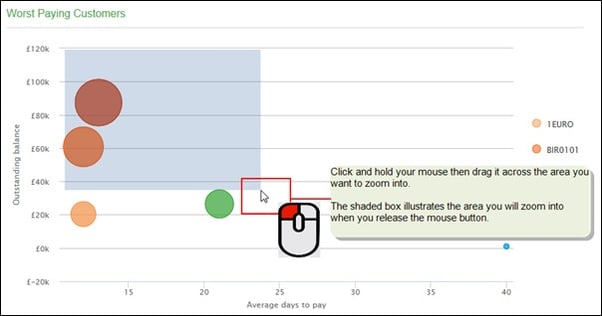 Most customers who use Workspaces can edit them without any technical expertise. But for more advanced workspace design work, we can offer this additional service to customers.
Finally, Web Users can take full advantage of Workspaces as it gives the option to:
Run reports

Use workspaces to view data, and export data to Excel spreadsheets

Enter and authorise timesheets and expense claims.

Authorise purchase orders.

Enter and authorise purchase requisitions
---
2. Financial Statements
We often find that customers are not aware that new Nominal Codes need to be added manually to the Financial Statements. We get many support cases on this topic where a user has added a new Nominal Code and is not sure why it is not appearing on the report.
It's so quick and easy to do. We would usually show users how to do it the first time so that they can do it themselves the next time they need to add a new Nominal Code.
What are they typically used for?
P&L

Balance Sheet

Cash Flow
Financial Statement layouts will usually include the following considerations:
Headings and subheading for each section

The nominal accounts (by report category) that are included

How the nominal accounts are totalled in each section

How the report sections are added together

How the values are displayed

We always deliver Financial Statement layouts as a service for new projects. We can also provide additional services such as setting up new financial statements/chart of accounts for additional companies or creating new statements layouts from an existing Chart of Accounts. An example would be creating a statement with more or less (summary) detail.
Chat to one of our support team if you have a financial statement requirement.
---
3. Sage 200 Report Writer
The in-built report designer is useful for both editing and creating new reports from scratch. It's also used for designing or editing new layouts (such as statements, invoices etc).
We get all sorts of requests from customers including: Grouping or adding certain fields, adding calculations, expressions or functions. We have also done plenty of conditional formatting for customers. An example of this might be, "If Customer Currency = USD, display bank account 101 on the layout".
Is this chargeable or covered under support?
Typically report writing services are chargeable, however we take each request and our Sage 200 support consultants will assess the work involved. If it's a quick change, we can cover under support. If it is more complex and requires more time, we would typically provide this as a chargeable service. See Point 4 below for more information on report writing services available.
---
4. Sage Services Report Writing Services

Did you know that you are entitled to 3 Free Reports from Sage with your Sage 200 Service subscription? Not many of our customers avail of this service, but it is a great way to get reports written from scratch at no additional charge.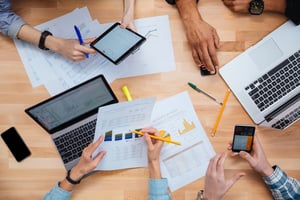 What's involved?
As part of your Sage 200 Services, you can get 3 free reports per year. The key consideration here is that you must be very clear on exactly what you want the report to show.
Our support team would be happy to guide you on this, but to process your request, you must do this on your MySage account.
Which Reports should I ask Sage to create?
You should determine which reports you would like Sage to create for you. If you have a number of reports to be designed, we would recommend asking Sage to do the more complex reports as these will take the most time and therefore you will save the most money. We can also provide a report design service for any reports over and above the 3 that come with your Sage 200 services.
---
Microsoft Power BI provides an additional layer of reporting that sits on top of your Sage 200. It won't necessarily replace your Sage reports, but it is unparalleled at producing graphical or visual representations of your data and helps businesses and departments to stay focused on their KPI's.
Recently, our Power BI expert, Ladislav Zimanyi chatted with our Marketing Director, Sinéad Galligani, about the benefits of Power BI for Sage 200. Click below to watch: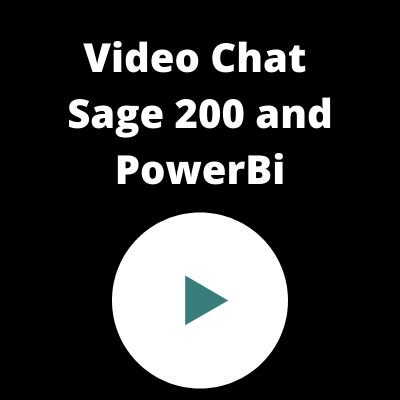 Related Content: https://info.envisagecloud.ie/blog/sage-200-and-powerbi
---
6. Sage Services Extra - Excel Reports
Another great tool that sends Sage 200 data directly into Excel. As standard, you have access to a number of Excel Reports within Sage 200. You can unlock access to additional Excel Reports by upgrading your subscription level. You can email sales@envisagecloud.ie for more details on this.
---
7. Sage 200 BI
Sage 200 Business Intelligence is still widely used by many of our customers. It allows you to mine data from every aspect of your business to help you spot trends and have available the data to help you understand what's happening in your business. Sage BI includes a suite of standard cubes (dynamic tables) available for customers such as Sales by Customer by Month, by Quarter or other period, Stock forecasting by accounting period, Profit & Loss Analysis, all updated to reflect the latest data.
NOTE: Sage 200 Business Intelligence is no longer available on later versions of Sage 200. For companies using Sage 200 Business Intelligence that would like to explore suitable alternatives, we would suggest getting in touch to arrange a demo on Microsoft Power BI (point 5 above).
---
Chat with our Team
As you can see, there are many options available to you when it comes to report writing within Sage 200. If you have some reporting requirements but are unsure which of the above options is best, why not have a chat with a member of our team and we will point you in the right direction.
---
About the Author: Laura Delaney, Sage 200 Account Manager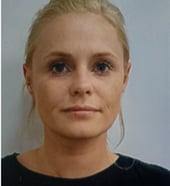 Laura has been working in Envisage for just over three years as Customer Account Manager. Laura looks after our Sage 200 customers and is knowledgeable on all of our Sage Products as well as the integrated apps. She works closely with our customer base to help them get the most from their Sage 200 investment.