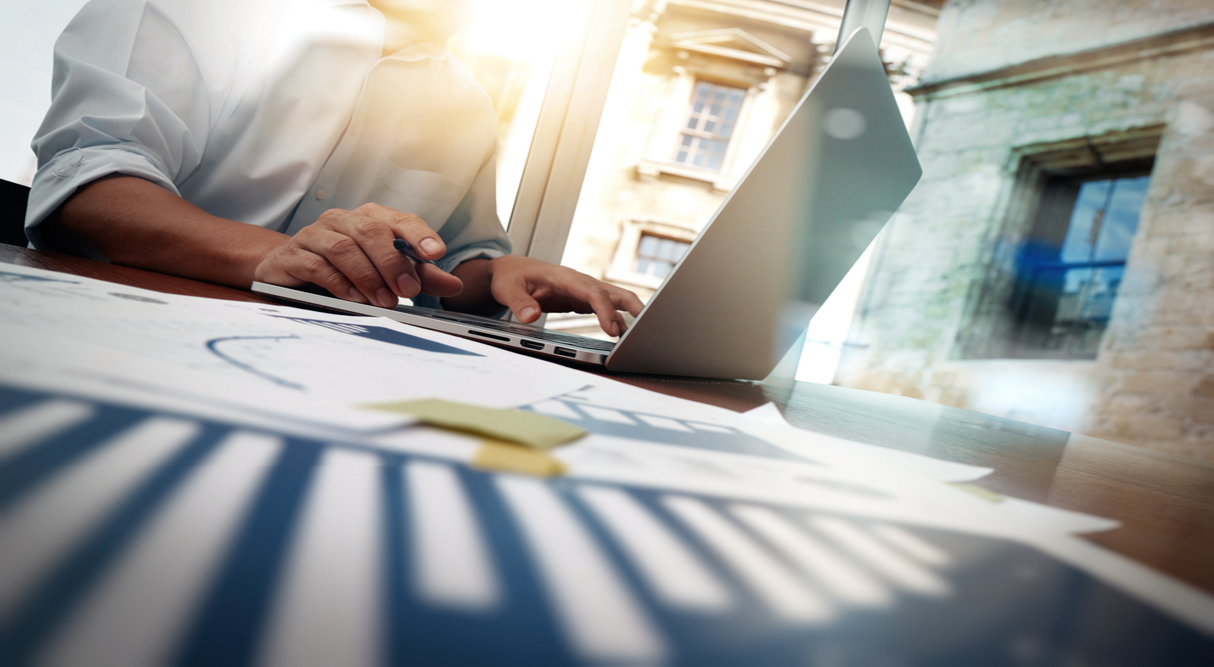 What are e-Payments?
e-Payments are payments made online to suppliers for goods or services. If you have compatible banking software installed on your PC or laptop, you can use the e-Payments option within Sage 200cloud.
The e-Payments option creates a file that can be read by your banking software, which then allows you to make payments to suppliers directly through Sage 200cloud.
Despite the fact that most businesses are now paying suppliers electronically, many companies are still managing their e-payments process independently from their accounting system. This just adds to workload (duplication) with potential for human errors.
So, we thought, why not put together a simple guide to help with setting up e-Payments in Sage 200cloud.
We've also included a brief step-by-step video to help you get started.
Benefits of using e-Payments:
There are many benefits to your business using e-Payments. Some of these benefits are:
Saves time
More efficient
More secure
Reduces the risk of human error


---
Setting up e-Payments in Sage 200cloud
We're going to cover the following:
Setting up e-Payments on the bank account
Setting up Suppliers to be included in e-Payments
Set up e-Payments on the bank account
Step 1: You first need to enable the e-Payments function within Sage 200cloud.
NOTE: You can only process e-payments for suppliers that are using the same currency as your base currency. So if you are a company that has a base currency of Euro, you can only generate e-payments for Euro Suppliers.
To do this, go to:
Purchase Ledger > Utilities > Ledger Set up > Ledger Settings

on the Options Tab, tick the box to allow Electronic Bank Payments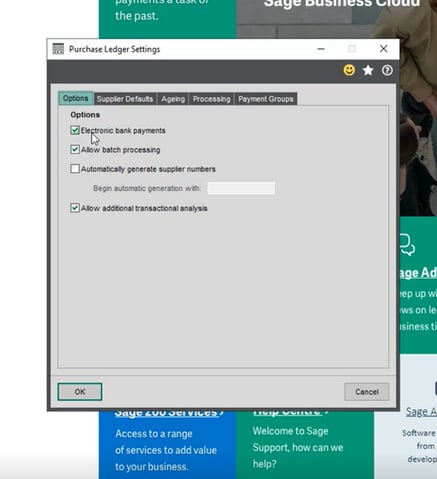 Step 2: You then need to configure your bank account in Sage 200cloud to be able to create the bank file.
NOTE 1: Different Banks require the file in different formats so you need to make sure that your bank is set up.
Go to Cash Book > Bank Account List

Select the account being used with e-payments

Amend account > Go to the e-banking tab

Select Your e-banking service from the drop down list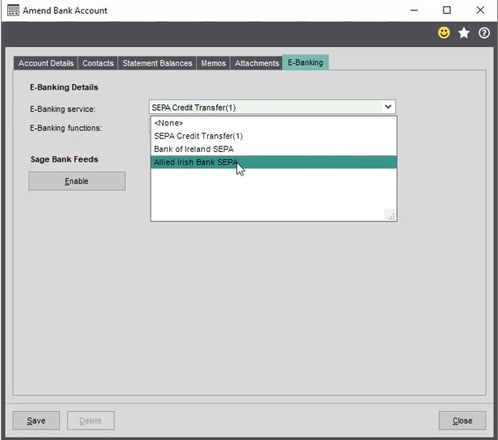 NOTE 2: If you are using AIB or Bank of Ireland you need to select AIB SEPA or Bank of Ireland SEPA.
NOTE 3: If the option you require is not on the list, please contact us and we can assist with getting the correct plugin downloaded for you.
NOTE 4: Other banks, such as permanent TSB use a generic SEPA Credit transfer format.

Your e-banking function will be set to payments only. To change the file location:

Click on File Locations
In the directory field you must specify the path where the e-Payments file will be saved.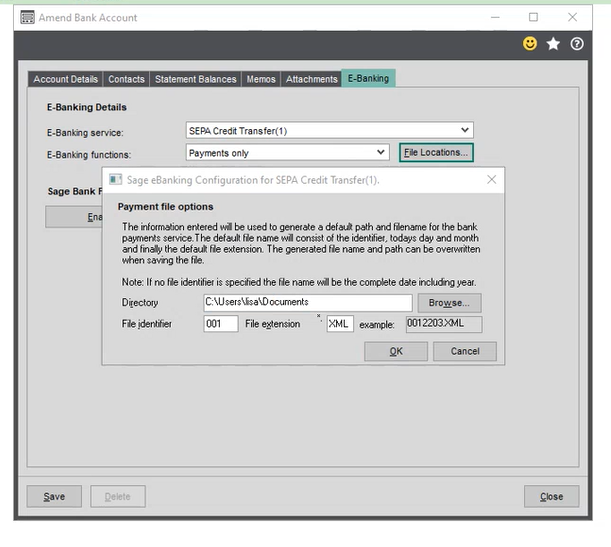 NOTE 5: If you are going to have more than one person generating bank files, we advised that this should be a shared location that all users can access.
Enter a File Identifier:

If you have multiple bank accounts Sage 200cloud and each one is going to be generating a bank file, they should all have a different identifier.

File extension:

The extension should be set to XML for SEPA bank files
You will see an example of the bank file name File identifier – followed by the date and the file extension. To ensure that the bank details are correct:
Click on the Account Details tab
Ensure the correct IBAN and BIC details are entered
Click Save
---
Set up suppliers to be included in E-payments
Step 1: Setting up a Payment Group
The next step to complete is set up a payment group for e-Payments.
Now any suppliers that are added to the e-Payments payment group will be included in the e-Payments file if they have invoices outstanding. This means you can still have some suppliers that are paid by cheque and some by e-Payment.
To set up the payment group go to: Purchase Ledger - Utilities - Ledger Set Up - Ledger Settings

Click on the Payment Groups tab

In the example below we have one that is cheque only, another that is remittance & cheque and a third that is remittance only. Different suppliers will be paid in these different ways.
Remember, if there are suppliers in a currency that is NOT your base currency, they CANNOT be included in the e-Payment file.
In the payment document, you can select the applicable method of payment for your suppliers. When processing e-Payments, there are 3 options:
Electronic Payment (no remittance)
Electronic Payment Remittance (Paper) – this will print the remittance advice.
Or Electronic Payment Remittance (email) this will generate the email remittance.
Then enter a description in the Description Dropdown that you will be able to recognise on the payment option when applying to the supplier account.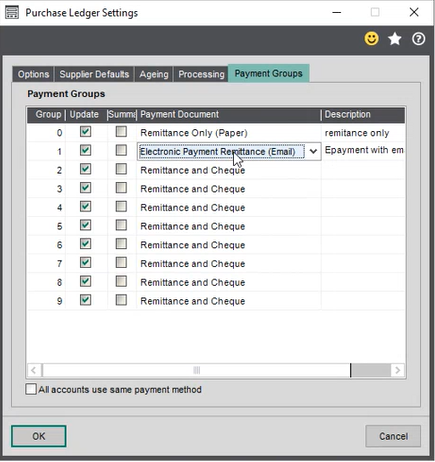 Step 2: Apply Payment Group to Suppliers List
To do this:
Go to your suppliers list > select the supplier > amend account

Select the payment Tab

Click on the Payment Group dropdown and ensure you have clicked on e-Payment with email remittance (or whatever choice you had made earlier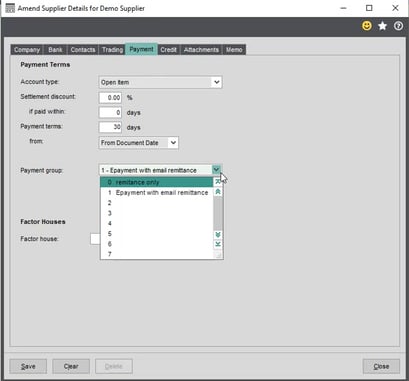 NOTE 1: If you are going to be e-mailing a remittance advice, you need to make sure you have an e-mail address filled in on the contact tab.
NOTE 2: And in the bank tab, you need to have the suppliers bank details, including the IBAN and BIC numbers, filled in.
Once you go through these tabs on each of the relevant suppliers, you will then be ready to processes supplier payments using e-Payments.
e-Payments Video
Here's our quick 10 minute step-by-step video to help you get your of e-Payments for Sage 200cloud up and running.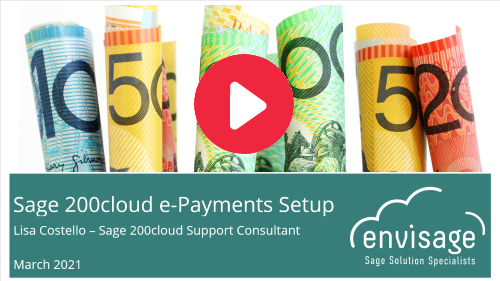 About the author: Lisa Costello
Lisa works in our Envisage Support Team as one of our senior Sage 200cloud consultants. Having worked in Sage for a number of years prior to joining the Envisage team, Lisa brings a huge amount of experience with her and is very well equipped to assist our customers on a range of support topics and queries.