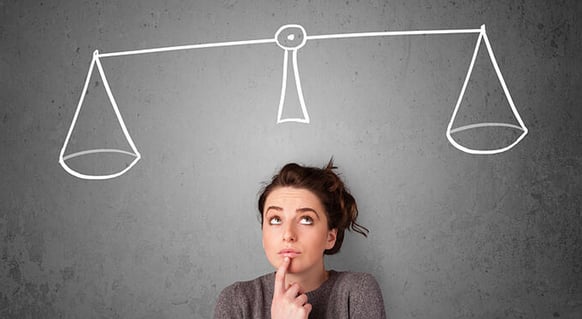 The Bank Reconciliation option in Sage 200cloud is used to compare and reconcile the amounts on your bank statements with the transactions in the Sage 200cloud Cash Book.
When you reconcile your bank statement, this means comparing it with your Sage 200cloud cash book and bank records for a specific period, ensure all monies have been entered and make sure to note any discrepancies there may be. When you have a list of these discrepancies, you can then discuss with your accountant and ensure that no funds have gone missing from your business or been entered incorrectly.
Benefits of carrying out a Bank Reconciliation:
There are many benefits to carrying out a bank reconciliation within Sage 200cloud. Some of these are:
Balances your Account
Prevents Theft
Keeps Mistakes at bay
Helps detect accounting errors
Updates fees and interest charges
This is an important process so we thought we should put together a simple guide to help with setting up Bank Reconciliations in Sage 200cloud.
We've also included a brief step-by-step video to help you get started.
In this Help & Advice blog, we will cover 3 main topics:
1. Reconciling Existing Transactions in Sage 200cloud
2. Saving a draft reconciliation to return to later on
3. Enter transactions that were picked up while carrying out the reconciliation
Before you start your reconciliation, you should ensure to have your bank statement printed out. This way you can tick off the transactions as you go.
Or another (more eco-friendly) option would be to log into your online banking and export the transactions from here to Excel and then you can highlight the matched transactions as you move forward.
---
Reconciling Existing Transactions in Sage 200cloud

1. To access the bank reconciliation function in Sage 200cloud:

Go to your cash book list

Select the account to be reconciled

S

elect Bank Reconciliation from the top menu bar.
This can also be accessed by going to Cash Book – period end Routines – Bank reconciliation.
2. When you open up your Bank Reconciliation, you will see all of the transactions on your screen that are currently un-matched or un-reconciled.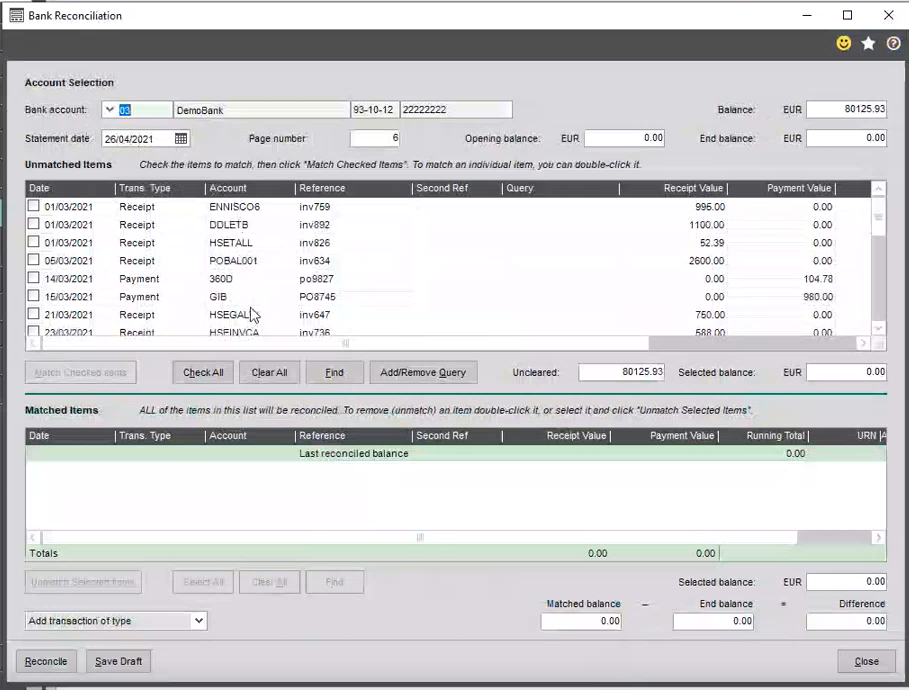 3. However, there could be transactions there also that are beyond the date that you are ready to reconcile. So in the Statement Date box, enter the date that you are planning to reconcile to. Any transactions dated beyond the date you enter here will be removed from your current list.
Note: If a bank reconciliation had previously been done on this account, the opening balance should be the same as the closing balance of the last reconciliation that was done. If this has changed since the last reconciliation was saved, this may be down to transactions that had previously been reconciled, being unreconciled and not re-reconciled.
If you opening balance is not what you are expecting it to be, please investigate this first before continuing as it will cause issues trying to get your balances to match.
If no bank reconciliation has been carried out on this bank account before, the opening balance should be zero.
4. Enter in the End Balance, this will be the closing balance on your bank statement. In our example, this is €5438.89.
5. Once you enter this End Balance on the top of the screen, you will see changes at the bottom of the screen also - an equation will have been populated.
There is a matched balance which is what you previously reconciled to in the past plus any transactions you have reconciled in this current reconciliation. There is your End balance which populated from the entry above. And then your Difference which is your matched balance minus the end balance. This is showing what you need to still reconcile. The aim of the game is to get you difference to zero.
Your screen is split into 2 sections, the Matched on the bottom and the Unmatched at the top.


As you select your transactions in unmatched section, your selected Balance will update.
Note: When you match the transactions, the move to the lower half of the screen, you matched balance updates and your difference will change.

6. What you need to do now is to have your bank statement printed out beside you with a highlighter pen or else have the items listed on a separate screen, e.g from your online banking.
Next, when you see a matching transaction between the bank statement and the Unmatched items listed in Sage 200cloud, you tick the check-box beside the unmatched item. The balance will populate with the amount to reconcile.
7. Once you are happy that what you have ticked off matches what's in your bank statement, click on the Match Checked Items button at the bottom left side of the top half of the screen: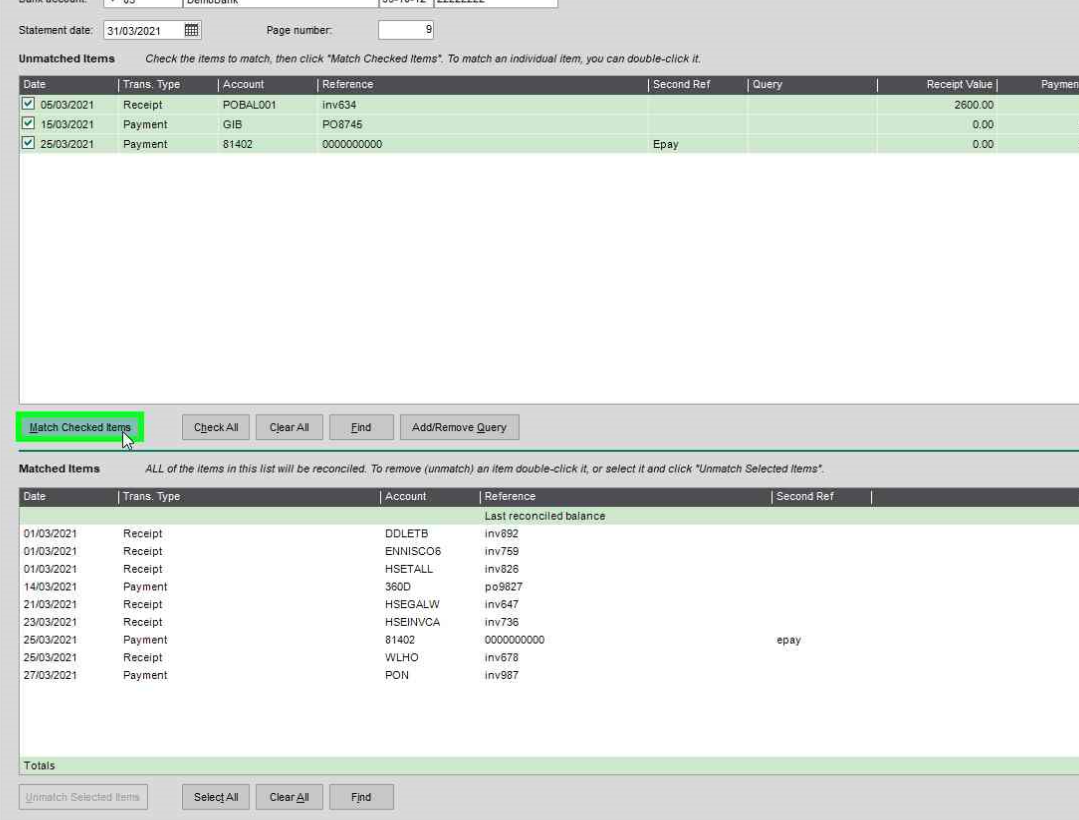 The transactions you have ticked will then be brought to the bottom half of the screen and the matched balance will start to populate and the difference will have adjusted accordingly.
Note: If you match a transaction in error, you can select it from the matched area and select Unmatched Checked Items, and they will be returned to the unmatched area.
---
2. Saving a draft reconciliation to return to later on
Sometimes, working on the bank reconciliation can take a couple of hours, depending on the volume of transactions you have to reconcile. So there are times when you will start working on it but then need to move to working on something else before coming back to finish the bank rec later on.
If you start work on the bank rec and want to continue working on something else, you can save the work that has been done by selecting

Save Draft

.
Give the draft a name, so it can be recalled later: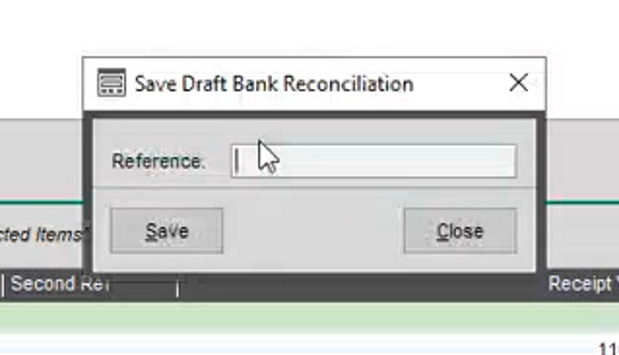 When you return to the reconciliation, you can choose the draft that you had been working on or you can remove what has been saved and start again.


To locate the saved draft, access the bank reconciliation again as in Point 1 above and a pop-up will appear to advise you that there is a draft reconciliation there that you can go back to now. You have the option to Recall, Delete or Start New:

---
3. Enter transactions that were picked up while carrying out the reconciliation
In the example we have above (and in the video linked below), we have matched all of our transactions but the difference is still showing a balance of €30.00 instead of the €0.00 that we would like.
So as I am going through my reconciliation and my statement, I can see that on my statement, I have bank charges. Because this is not a supplier transaction or a customer receipt, it may not be picked up on day-to-day entries.
Rather than saving a draft, closing out of this bank rec and entering the transaction separately in the Sage 200cloud nominal ledger, it can actually be entered whilst working on the bank rec.
Note: All types of bank transactions can be entered, but it will appear in the ledgers until the reconciliation is saved.
At the bottom of the screen, you can see a drop-down called Add Transaction of Type: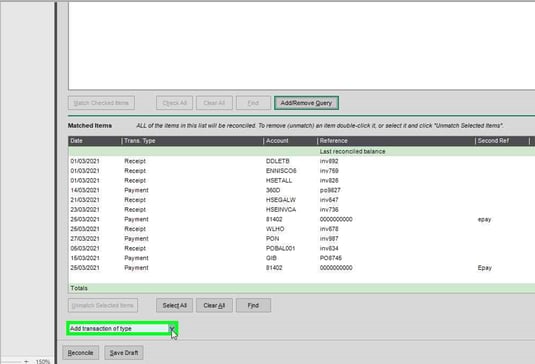 Click on this drop-down and you will see all the different transaction types: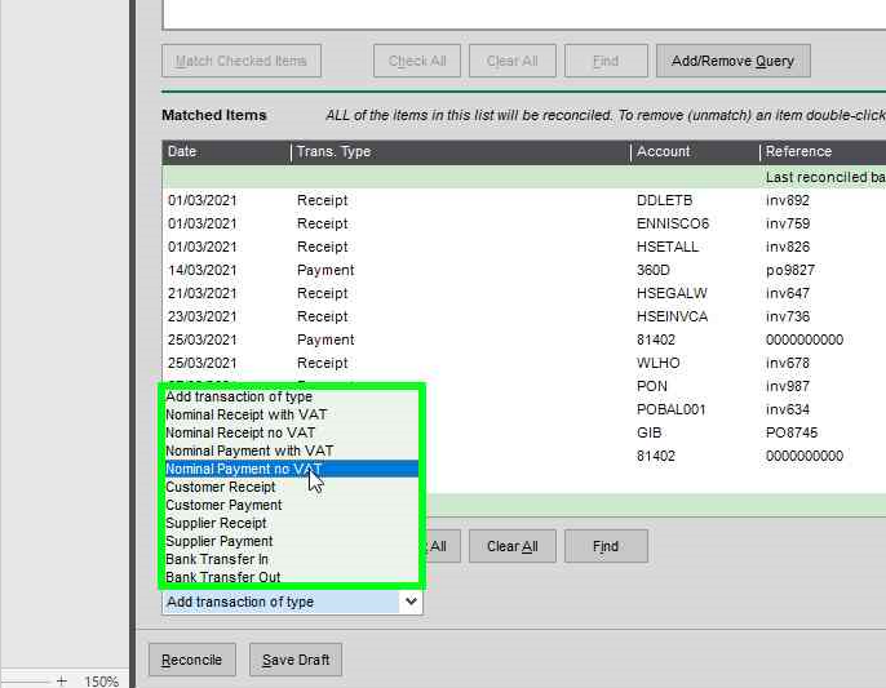 In this example, we will do a Nominal Payment with No VAT.
Enter the details in the Narrative Option (e.g. Quarter Bank Charges)
The date will default to todays date so ensure to enter the date of the bank rec here.

If the date is incorrect, the transaction wont appear on the bank rec.

Enter the Nominal Code and the Value

Click Save
You will now see that the €30.00 has automatically been entered into the Matched Items area on your bank reconciliation. You will now see the difference is showing as €0.00.
Now that this transaction has been entered, it can be treated the same way as all other transactions. So if its incorrect and you want to un-match, you can click the un-match button and continue as we have shown earlier.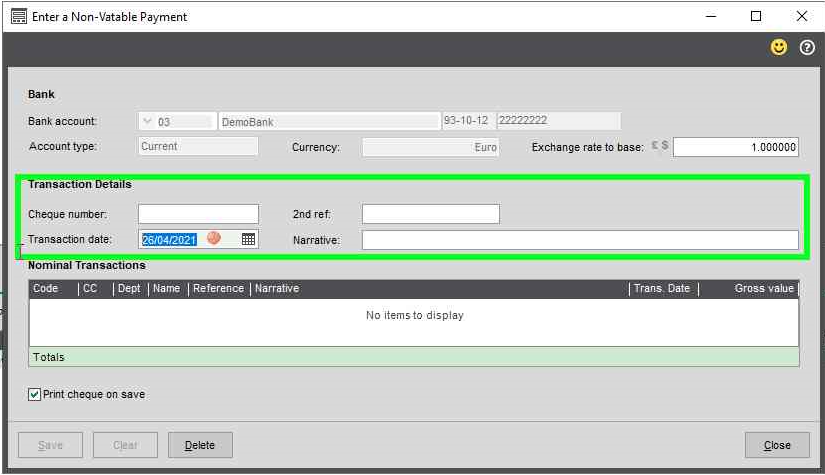 Note: If I click on Save Draft now and go to look at my Cash Book, the transaction that I have just created for the Bank Charges will not appear. This transaction is almost like a "phantom" transaction until you click on the Reconcile option in your bank rec. My bank balance and transaction listing will not have been updated by this entry.
When you have everything reconciled and you balance is down to €0.00, click Reconcile.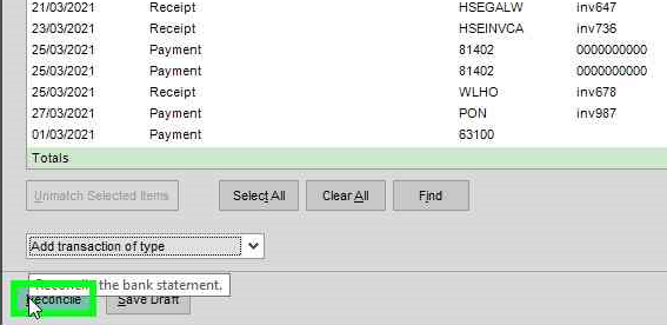 A report will now be generated.

We advise saving this file or spooling it immediately as this is the only time you can get this report. Once its generated, it cannot be redone.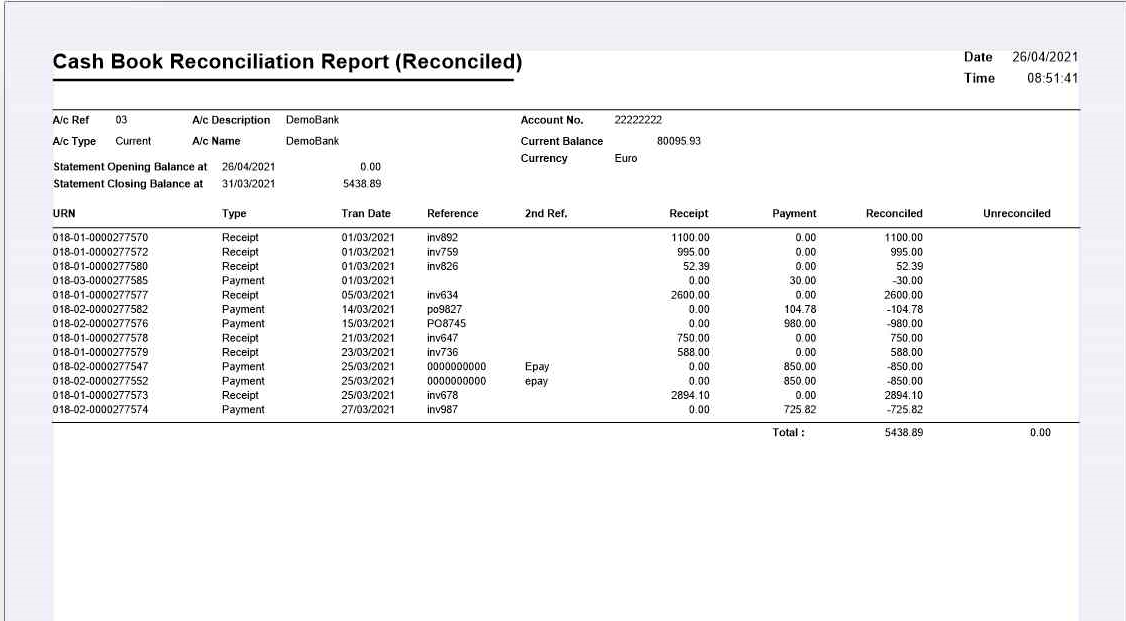 Note: If you have any unreconciled transactions, you will also receive a report of these. This report CAN be regenerated so don't panic if you forget to save this one.
Now if you go back into your Cash Book in Sage 200cloud, you will see a Statement Balance on the screen, updated to match your reconciliation amount.
If in the Cash Book I choose to do an Account Enquiry and click on Statement Balances, I can see any previous reconciliations that were done and my latest Statement Balance appears here too.
---
Bank Reconciliations Video:
Here's our quick 15 minute step-by-step video to help you run your Sage 200cloud Bank Reconciliation. Click on the image below to view:
About the author: Lisa Costello
Lisa works in our Envisage Support Team as one of our senior Sage 200cloud consultants. Having worked in Sage for a number of years prior to joining the Envisage team, Lisa brings a huge amount of experience with her and is very well equipped to assist our customers on a range of support topics and queries.