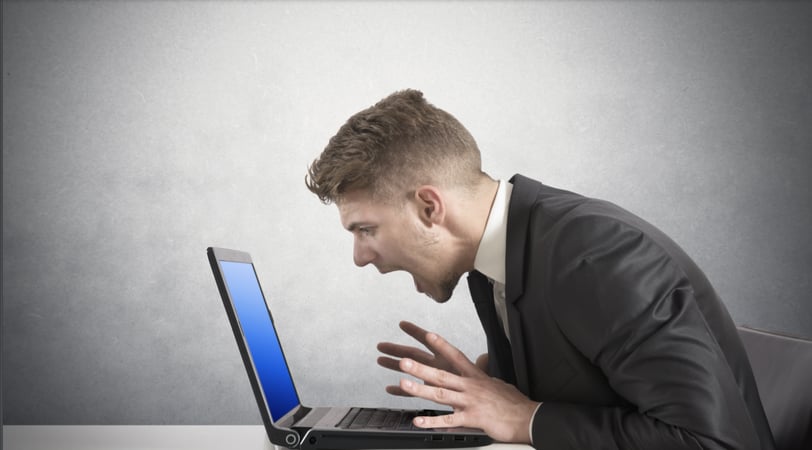 In this latest Help & Advice post, our Connections Product Manager Ladislav Zimanyi discusses Connections and goes through some of the most common errors that may arise, both in Retail Connect and Supplier Connect, and gives some simple tips on how to fix them. We've also put together a 20 minute video to help you fix these common errors.
Why Do Errors Occur in Connections?
Connections sits between your Sage 50cloud or Sage 200cloud back office accounts system and your EPoS system. It also imports data from suppliers. The secret to creating a seamless administration process is in the set up and data mappings. Errors can occur for a variety of common reasons and so in this article, we point out some of these common errors and guide you through the steps to fix them.
For more details about Connections, check out https://envisagecloud.ie/products/sage-integrated-apps/retail/
So, Let's get Started..
Retail Connect
We'll take a look at 3 common errors in the Retail Connect module: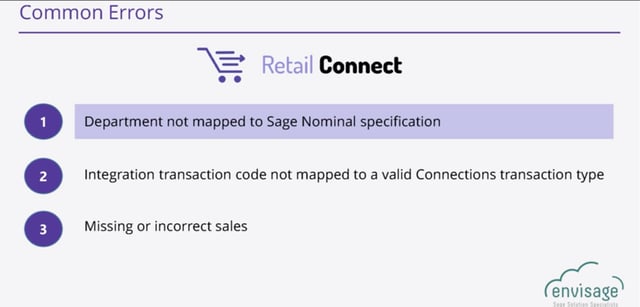 1. Department not mapped to Sage Nominal Specification
This error usually occurs when you are trying to open a day in the Retail Connect process transactions section. You can access this through the process transactions option or view transaction status in the transaction enquiry option.
Select one of the date options

When you click to load, the below error will appear which means one of your EPoS departments is not mapped to a Sage nominal code. It also means that you cannot post this day to Sage until the issue is resolved.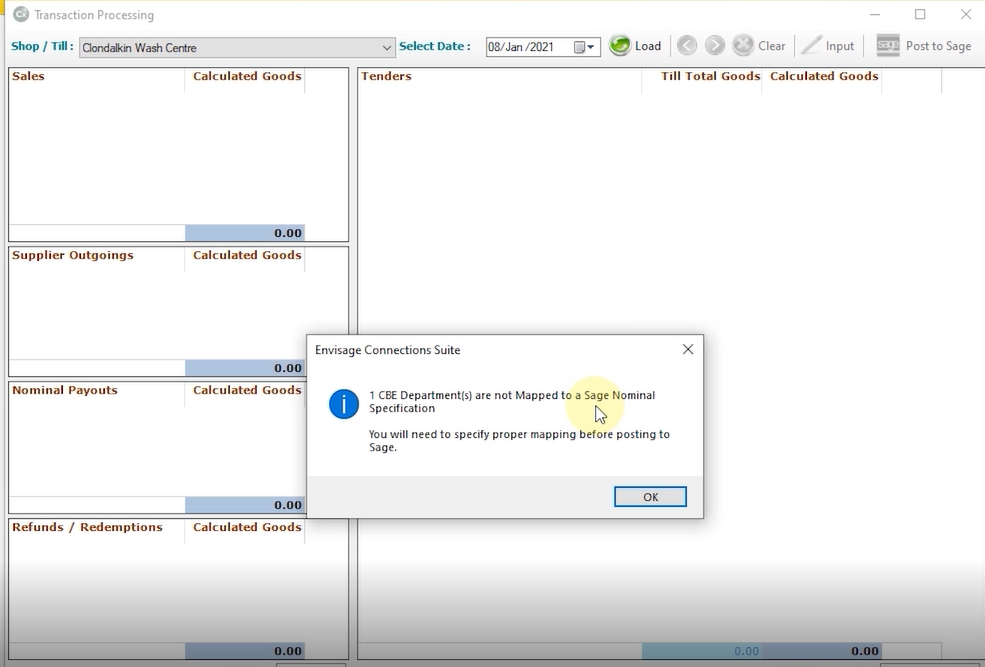 Close all of the open windows

Go to Tools > Mapping Settings > Nominal Mapping

Click on the Nominal Specification column to find which nominal is missing

Click into the Nominal Specification column and select the correct nominal from the dropdown list (see below)

If you use departments or cost centres within Sage, assign these too.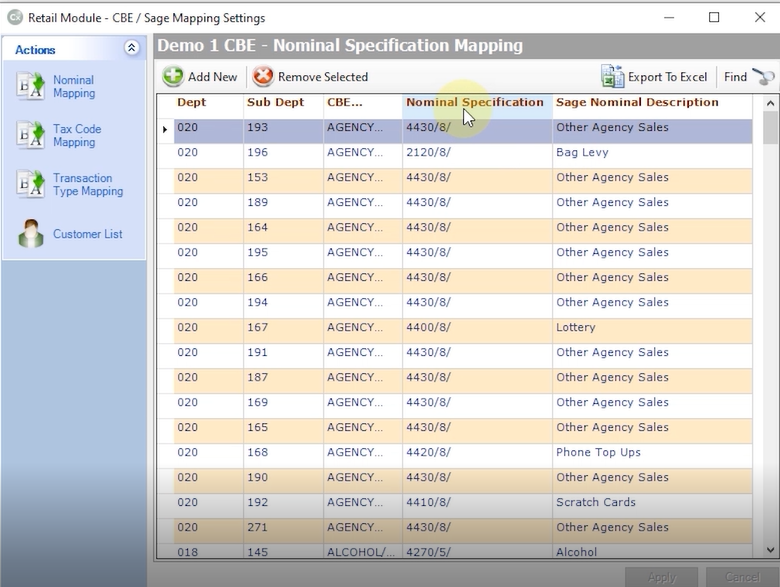 To confirm the change, press Enter.

This is now saved. So when you go back to the day you chose at the beginning, you should not get any error when you click on it.

See screenshot below where the day has loaded correctly.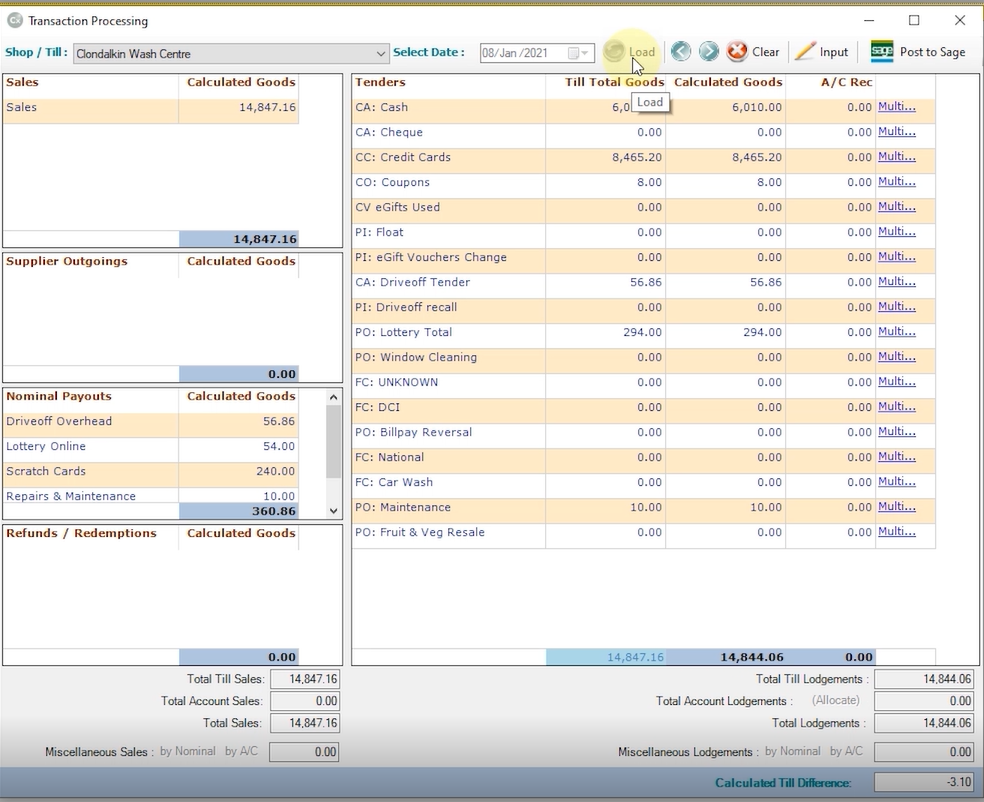 ---
2. Integration Transaction Code not mapped to a valid Connections transaction type
Integration code errors aren't always easily recognisable. But we will show you an example of one below and how to fix it.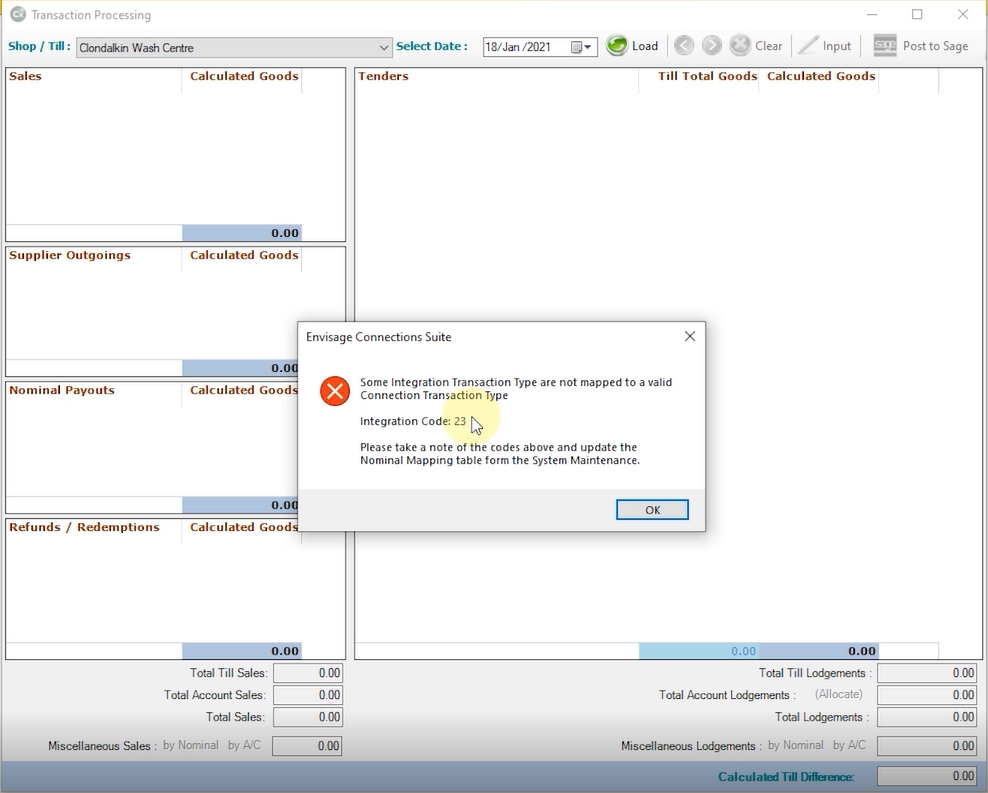 This example is showing an error on integration code 23. The first thing we need to do is see what code 23 relates to.
Go to Tools > Mapping Settings > Transaction Type Mapping

The third column will show a list of codes/numbers from your EPoS provider

. In this example we have used CBE so its showing as a CBE code. These numbers represent the number of the error message we saw earlier. So in this case, if we scroll to the number 23, it will show us the error code

PaidIn2.
NOTE: this will change pending your own set up and EPoS provider.
We can find out more details about this error on the Financial Report from the EPoS system.
Below is an example of a Financial Report for the date we are looking at on Connections: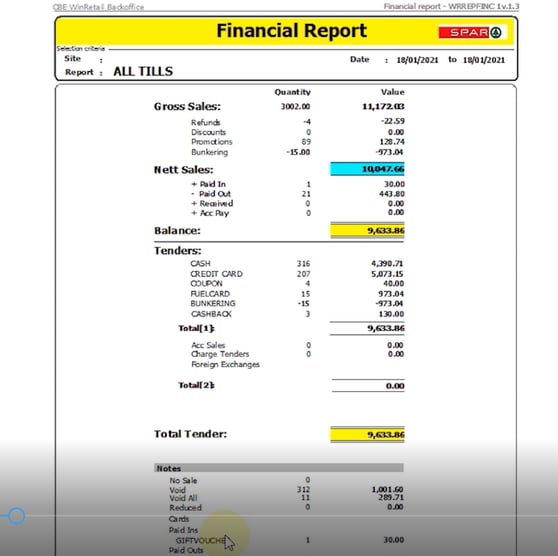 Here we can see a list of PaidIn's. Luckily in this example there is only one and it relates to a Gift Voucher.
Now we go back into Connections to map this transaction to Sage.
We go back to error 23 and type the option where PaidIn2 was. So in this example, we type Gift Vouchers Sold.
In the Type column, this is a receipt.
Now we just need to enter the Bank A/c number

from Sage. In this example, we entered 1265 as this is our account number.
NOTE: Ensure to refer to your own Sage application for your own bank account details.
Scroll across the screen. It's best practice to tick the Allow Edits and Integrated options.

Press Enter to confirm these new settings.

To check that it has worked, click on View Transaction Status, open the same date again and the day should load without error. You should also see the new item listed here.
Again, if you are unsure about where to map these on Sage, contact our Support team on support@envisagecloud.ie and we can go through the details with you.
---
3. Missing or Incorrect Sales
This error usually tends to happen if something has changed on the EPoS system after the data was collected.
NOTE: If your system was installed before 2020, you will be on the older version of our data collection module. In this case, you will need to contact your EPoS provider to export or re-export the data. The data will then appear in Connections the following day.
However, if your system was installed in 2020 or after, you will be on the new date collection module. What this means (for CBE & Retail Solutions EPoS customers only at this stage) is that you can re-export the data yourself, whether it's for a missing date or if you decided to delete and re-enter a date after it was corrected on the EPoS system.
You need to connect to the PC that you are collecting the data from. Its usually the "back-office PC", CBE or Retail Solutions PC within your store.
Navigate to the C:drive > Envisage > there are usually 2 files within this folder. One to reprocess multiple days and the other to reprocess a single day.
In this example we are using the single day file.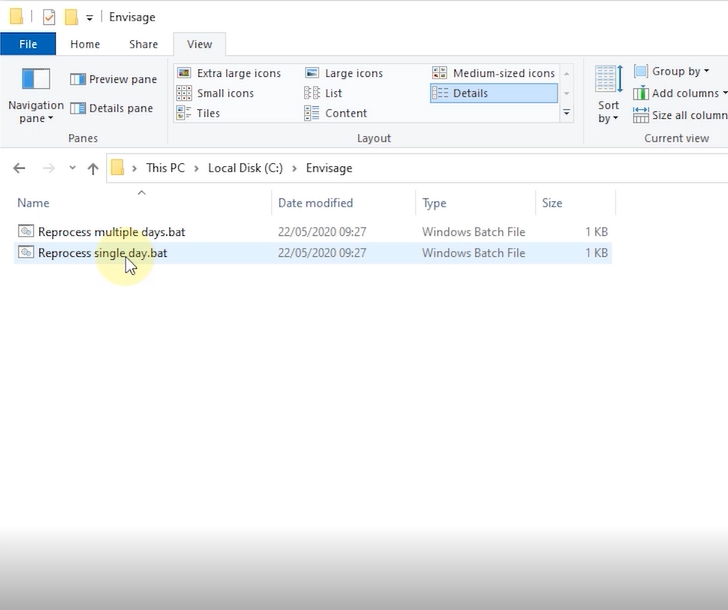 Right Click on the Reprocess Single Day option > Edit
You need to Set the Date here to the date you are reprocessing. Note that the date format is YYYYMMDD
The Shop Code is already set up and you need to ensure the MODE is RC. This stands for Retail Connect.

Once you are done, click File > Save and then close the window.
To re-process the day, double click on the file and a dark screen will appear.
NOTE: It might take a while for the data to re-process. It automatically publishes the file to the online FTP server. So this should be in your head office or wherever your Connections application is within the next 2 hours.
---
Supplier Connect
Within Supplier Connect, we are going to concentrate on 2 of the main errors: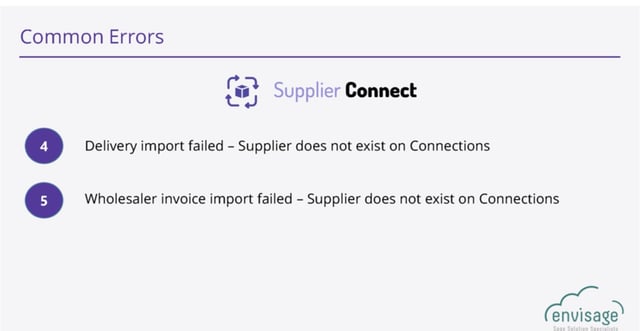 4. Delivery Import Failed - Supplier does not exist in Connections
This error usually appears when you are trying to import delivery details through your EPoS tasks.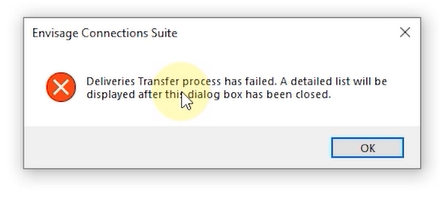 Once you acknowledge the error, a more detailed window will show up advising you of what is wrong when importing the delivery.

In our example, a Supplier Code was not found in the Connect database. The supplier name in this case is ASH. Take note of this.

First step is to ensure you always have the most up to date list of suppliers from your EPoS system. To do so, run the Import Supplier Details task. You will see this option on the side bar of your screen.
In our example, the message tells us there are no new suppliers to be transferred (see below).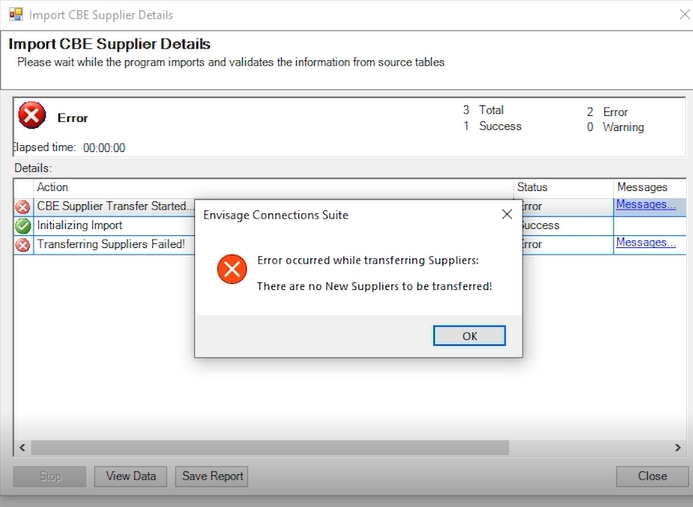 This means that the supplier shown earlier (ASH in this example) is a brand new supplier that we will need to add manually.
NOTE: Most of the time, the step above would resolve your issue because if the supplier DOES exist on your EPoS system, it would be imported automatically.
To add a Supplier manually, go to Tools > Mapping Settings > Supplier List

Click on Add New. The account reference is the supplier code that we were shown in the error message. In this example, ASH. So add this into the Account Reference column.

Tab across and enter the Supplier name.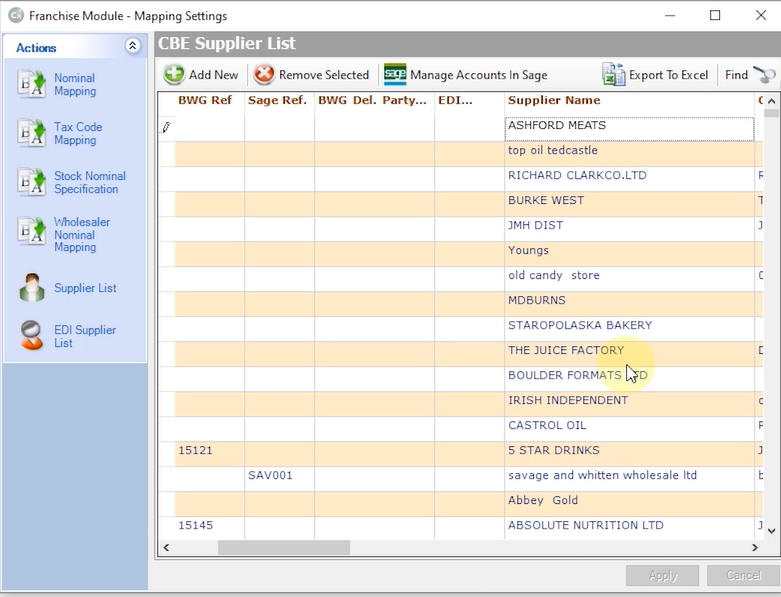 If this is a supplier you will be posting to Sage, add in the Sage reference/supplier code also.

Click Enter to save.

If the supplier doesn't exist in Sage, you will get an error message advising of that. Just go back into Sage and ensure you have the correct supplier code.
NOTE: Once the error is acknowledged, this supplier was not saved so you will need to enter the details again.
If you try to run the delivery import now, it should import everything.
As part of the standard procedures on Connections, please make sure you are happy with the mapping of the new products that were imported.
---
5. Wholesaler Invoice Import Failed - Supplier does not exist in Connections
This is another supplier mapping error but occurs when you try to import your wholesaler invoice.
First, you will see an error message advising that the import process has failed.
When you acknowledge the message, the required details will appear. You will be given the supplier and the message which is pulled from the invoice file.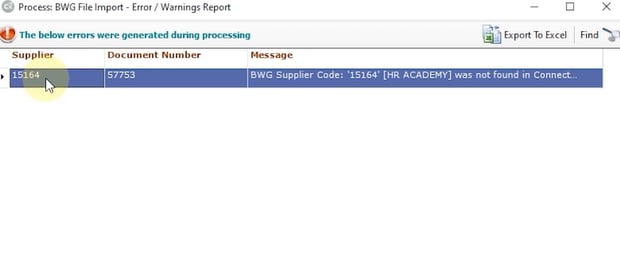 The difference between the delivery supplier error and the wholesaler invoice supplier error is that the number in the Supplier column is your wholesaler reference number. This means where and how its mapped on your EPoS system to the wholesaler central billing supplier.
Take note of the number and the name. Then close this window.
NOTE: The invoice will not be imported until we resolve the supplier mapping issue.
Go into your EPoS tasks and Import the supplier details.
If there is nothing new, you know you will have to do it manually. If there is something to be imported, you can try to import the supplier invoice again and see if it imports this time.
To add a supplier manually, go to Tools > Mapping Settings > Supplier List
Try to find the supplier on the list as it may already be there and is just missing the BWG code or wholesaler reference number.
In this example, we are looking for HR Academy.
You can sort by Supplier Name column by clicking on it. In this example, HR Academy is not here so we will add it from scratch.
Click on Add New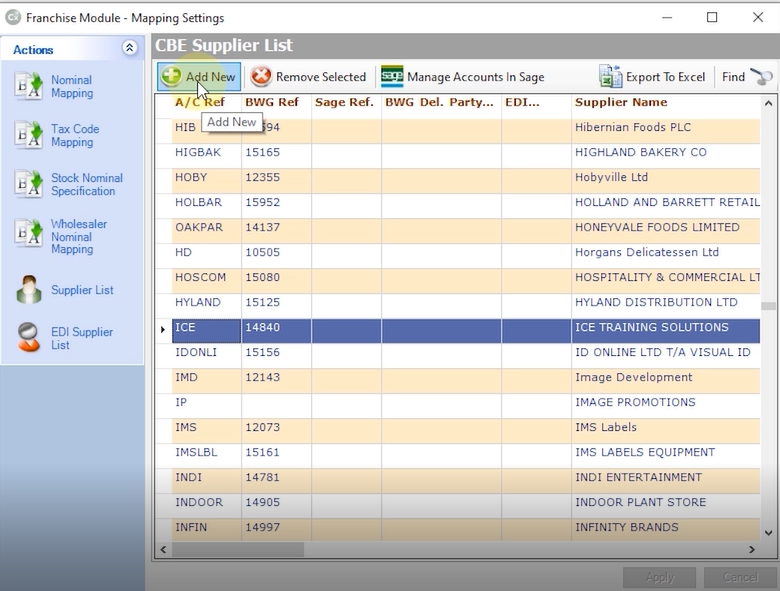 In the Account Reference column, the code should be the same as on your EPoS system. If the supplier doesn't exist on your EPoS system and you don't want it to, you can enter any account reference here. It needs to make sense and must be unique.
BWG Reference is the 5 digit number from earlier. Enter it here.
Tab across and enter the Supplier Name.
Click Enter to save. No errors mean it was saved successfully
Now we can go back to the Import Invoice File option and try to open the invoice again. A message should appear to let you know the file was successfully imported.
Again, as part of the standard procedures on Connections, when importing any new products, we need to map them.
Right click on the line and choose Change Nominal Specification

Find the expense category (In this example its Sundry)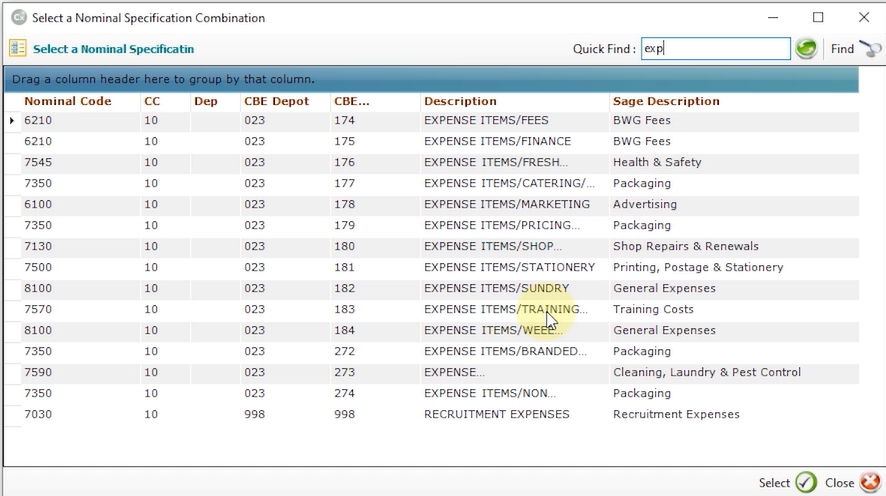 Now you will see the invoice opens and you will see all the details on your screen.
---
Short Video on Connections Errors
These are just some of the simple and most common errors that could appear on your Retail Connect or Supplier Connect Applications. We hope you found this helpful.
As always, you can reach out to us by email support@envisagecloud.ie
We have put together a brief 20 minute video showing all of the above steps in practice. Just click below to watch.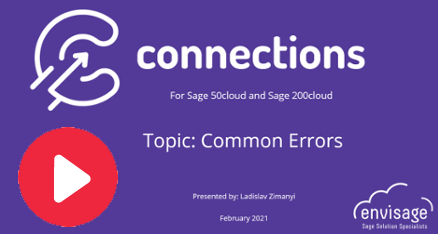 To keep up to date with all of our Help & Advice blogs, fill in the form opposite.
About the author: Ladislav Zimanyi
Ladislav works in our Envisage team as Product Manager for Connections. With over 15 years experience as an IT Manager in the retail sector and a Connections User, Ladislav's main focus now is on helping to shape the future of the Connections application through design, training, installation and sales.